Sheriff's Office Race Questionnaire
The Association would like to thank both candidates for making the great sacrifice to run for Office. We know it is not an easy thing to do. Attached is the Sheriff's Office Race questionnaire answers from

Sheriff J.C. Hooper

and

David Torres

.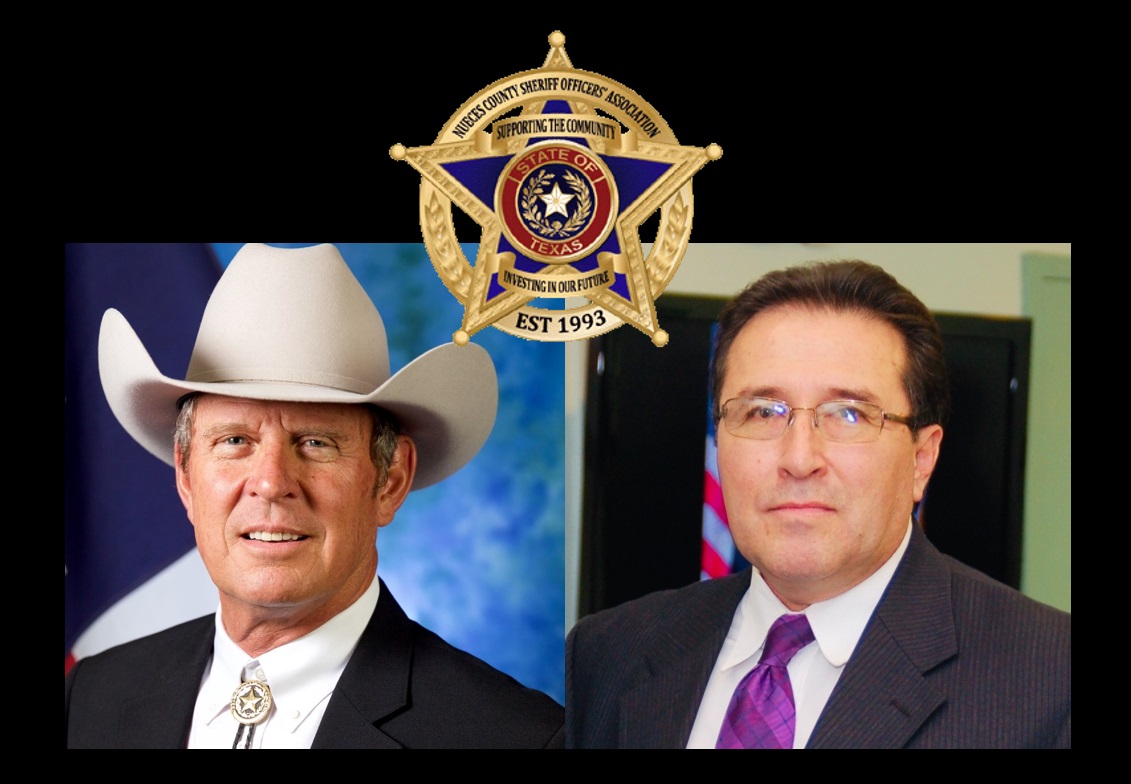 The following questions were submitted by our members from different Divisions within the Sheriff's Office and Constable Offices in Nueces County.
1. Please start off by telling our Members what your vision and plans are for the next 4 years, plus anything else you think we should know about yourself.
Sheriff J.C. Hooper
My vision for the Nueces County Sheriff's Office over the next four years is centered on creating and maintaining a status and reputation of excellency in public service by this agency. We all know that reputation and public perception is important when it comes to public support. You and I will do this together.
Some of my priorities for the agency over the next 4 years are:
• A continued upward trajectory of pay and benefit increase through collective bargaining.
• Continued aggressive and creative recruiting efforts using social media platforms and other state of the art efforts to reach the current generation of public servants.
• Develop our employees in the agency with emphasis on training and retention. Enhancing communication between administration and employees to share ideas that will make agency operations better in service to our community.
• I will continue to empower and equip the patrol deputies to be proactive in their law enforcement efforts ensuring a safer community and confidence of the citizens that we serve. I will continue to pursue technological advancements that will help us work more efficiently as we continue to grow our agency.
• Continue the upgrades and improve conditions of the jail using allowed budget while seeking additional funding options to facilitate the improvements.
I am not in the habit of talking about myself but I want you to know that faith, my family, my love for this community, and my service to our county for 38 consecutive years in law enforcement are very important to me. I am extremely proud of the women and men of the NCSO and the numerous things we have accomplished in my 21 months as Sheriff.
David Torres
First of all, as the leader of the Sheriff's Office, I realize we must get our house in order first, which means looking at how to manage the covid-19. I believe in massive scheduled testing for the Officers and their families. In addition, massive testing for the inmates. All PPE's such as face masks should be mandatory. Initiate UV filtration cleaning system to clean our ventilation systems. The critical staffing shortages must be dealt with as soon as I get sworn in. I would like to see a group of Union reps, supervisors and one Command Staff personnel set the direction for a quick plan to assist with Recruiting in an interim basis. I will further explain my overall plan for recruitment in my answer in question number 4. But it's critical we start the process ASAP.Within 90 days of taking office, I will have a six month plan and a three year plan. It will be written and disseminated to all employees and afterwards, to the community. This sets the table of expectations for my administration. So many leaders will tell you they have a plan, but it's never written, only talked about and never following up on their goals. .I must gain the trust and respect of the officers and employees of the Sheriff's Office. First, I want to realign some of the manpower so we can have the opportunity to have an active and robust Training Division. I want to work towards reestablishing a Peace Officer Academy, which will be offered to non-sworn personnel and to incoming officers. I envision after completion and certification as Peace Officers, new graduates will sign a contract with us for a three year commitment. This commitment to a Training Division will also assist us in Leadership classes for First and Second Line supervisors, I would like to see additional classes for our Correction Officers such as the elite classes from TDC as the 40 hour class on "Con Games" showing the Correction Officers what to expect from manipulative inmates. In addition, there are free state schools such as LEMIT(Law Enforcement Management Institute Training) classes for leadership building. Reestablish our connection with the FBI so we can send Supervisors to the FBI National Academy. Ladies and gentlemen these classes are all FREE! Finally, I would like for our Training Division to take the lead here in the County for bringingquality instructors from around the state and country to come and teach classes here locally. This will help us attract personnel to our department. The realignment of assets will also help us place more manpower into areas of critical need. Number two, would also want to initiate and designate a person within our agency to assist us in seeking federal, state and local philanthropic grants. We are far behind in capital improvements towards our improvements to building design, equipment and technology. Number three, I would also like to create a promotion system that objectively rewards our Officers desiring to promote up in rank. In addition, I plan to create an Ad Hoc group of citizen leaders to assist our Agency in prioritizing some of the changes coming to our Agency. I envision three Republicans and three Democrats. I want to initiate the first Nueces County Law Enforcement Summit, a meeting of all Constables and Chiefs of Police in Nueces County, to include Chiefs from the Port, all ISDs and both colleges. Finally, I envision these changes to be finalized and completed by various officer and supervisor work groups, as I feel we need to empower the officers in creating these changes. As your Sheriff, my job is to create a vision and give these officers the tools and resources to complete the mission of change. Please look at my website: davidtorresforsheriff.com and you will see twenty to twenty-five procedures and innovations I initiated with the help of line officers. I believe we do not have to reinvent the wheel, so in fact, I envision, group of Officers called Work Groups traveling around the state looking at different facilities and bringing back the information. Field Officers doing the same and helping us Reform our Sheriff's Office. My ultimate goal, Bring Back The Shine To Our Badge, so we can all be proud of!
2. Do you believe your Correction Officers & Deputies are entitled to "in-line of duty" death benefits if they pass from Covid-19? What will you do to ensure fallen Officer's Families get State and Federal benefits?
Sheriff J.C. Hooper
Absolutely. This pandemic has touched us all. Most of us know someone, even family members, who have succumbed to the virus. As public servants we are continually in contact with the public on the job. We can wear our PPE and do the best we can to stay healthy, but nothing is fail proof. When a public servant loses his or her life because of an infectious disease or illness that was contracted on the job, their beneficiaries should be entitled to the state and federal benefits designated for the surviving family members. I have been actively advocating for this for the family of Sgt. Raul Salazar. The final decision comes from the state or federal agency that manages this issue. It can take time and significant dialogue with the agencies that administer the benefits. I fully support and will fight for the survivor's rights and benefits in cases such as this.
David Torres
Yes. Without question, I believe Corrections Officers and Deputies are entitled to death benefits if they pass from Covid-19. First of all, I would confirm to any of those who might question that it was absolutely an "in line of duty" death. I would secure a letter of support from our commissioner's court for these benefits. I would get a letter of support from our state representative and from our US Congress representative. As political officials and representatives of this area, we must come together to support our fallen officers and their families. These letters of support will be sent to the Governor's office as we are currently waiting for his signature on a certain death benefit bill.
3. Do you support Collective Bargaining? What do you think your role as an elected official should be in trying to better your staff's benefits and pay?
Sheriff J.C. Hooper
Absolutely.
The current contract was one of the biggest pay increases I have ever seen in my 38 years as a member of a collective bargaining unit. 18% over 4 years is very significant. We are not done. As Sheriff I am technically a member of the County Management side of the table, but my wish is for the employees of the NCSO to secure the best contract possible. My efforts to achieve this are constant in nature. I frequently take the opportunity to bring the message of better pay and benefits to the County Judge and County Commissioners during Commissioner's Court, public meetings and private conversations behind the scenes. This is the same message I continually reinforce at every opportunity when speaking to our community, the taxpayers, who ultimately write the check for any pay increases. I fully support Collective Bargaining to achieve the best contractual outcome for the employees of the NCSO.
David Torres
I believe as the leader of the Sheriff's office, I must be at the front of the line and speak on behalf of our Officers and employees for better pay at Commissioner's Court. As your Sheriff, I am an elected official, but I am a Public Servant first. I have no desire to seek a higher or other elected position and I am willing to confront the Commissioners for better pay. In reference to benefits, I believe there are certain things that as a Sheriff ,I would be able to do: Number 1, we should have a bi-weekly labor management meeting . Number 2, I am pledging within the first week, we will not use the jail, the correctional facility, as a lateral transfer for field officers who have failed to meet the expectations, for whatever reason, of the Sheriff or any other supervisor. The lateral transfer of field officers to the County jail has had severe negative effects and lowers the morale of both Correction Officers and Field Officers. To this end I would initiate a written policy ending this subjective procedure. My management style is not to rule by fear but by cooperation. I feel any retraining or punitive punishment of that officer should start and stay within that division or work unit. During our labor management meetings, hoping that the association can come up with procedures, policies that will benefit all our employees that I as your Sheriff will be able to implement. Remember, I am personally guided by Principals that everybody in our Agency will know and they are as follows: 1) The Protecting and Serving of our entire Nueces County Community. 2)The Protection and Development of our Employees. 3) The Protection and Humane treatment of our inmates. Finally, as a Police Commander at CCPD, at the time of my retirement, I was the last Command Staff member to be a part of the Union. I was proud of it because the Association had a vital position at the Department, which led to many positive changes of officer safety and benefits.
4. With the recent negative image of Law Enforcement in the media and eyes of the public, it has made it harder to recruit Officers for both the Jail and Field Operations. If elected what steps would you take to reassure the public that Law Enforcement is a career worth going into? What are some recruitment ideas you feel may help with this issue?
Sheriff J.C. Hooper
We must always remember that we are blessed to work in Corpus Christi, in Nueces County. We are very fortunate to have a different relationship with our citizens and our media than some of the other metropolitan areas that are in the news today with riots and civil unrest. For the most part, we enjoy a long relationship of mutual respect and support from our community. We must never take for granted or assume the relationship cannot change for the worse. I believe that we must continue to be open, honest, accessible and responsive to the needs and perceptions of our citizens. This responsibility rests on every one of us, not just the chief administrator. Maintaining and developing a level of respect and trust with the citizens within the community through our everyday contact on the job and at community events will create an environment of support, respect and harmony within our community. We can recruit for our agency in a position of strength and stature when we have that type of relationship with our community.
1. I have personally recruited at all three area high schools that have law enforcement classes, Miller, Moody, and King.
2. I have spent time with areal Law Enforcement Explorer programs to educate the young men and women in those programs about our agency and employment opportunities.
3. I have expanded our recruiting reach on social media platforms.
4. I have directed recruiting marketing and advertising campaigns using billboards and graphic advertising on agency vehicles.
David Torres
The best recruiters in any organization, especially in law enforcement, are the employees themselves. Poor morale, subjective discipline, poor management, are but a few of the things that make an organization dysfunctional. This is why I think that gaining the trust and respect of the officers is the first step. We, as an administration and Command Staff, must remember that change must come from on top and from the bottom. These are the ideas I've been kicking around, but remember the majority will come from our Officer Work Groups as we go forward and obtain ideas from our officers and supervisors.Number one, I would like to have a professional, private marketing company paid for with drug fund money. This company will run a social media and marketing campaign "on steroids." One of my priorities for myself and my command staff and this Agency will be that we need to reengage with the community. Staffing has been an issue for several years. I would like to think that a recruiting and retention plan can be initiated. Number two, you currently have only one person doing backgrounds and recruitment. I would like to use overtime to create a recruiting team that will go to all large gatherings such as fall festivals, events, such as football games, and other large gatherings. This goes in line with my proactive management style, instead of waiting for applicants to come to our office or get on our website. I envision a streamlined website that takes the applicant directly to the application process. In addition, I would like to also place this new website in the back of all our police cars. Finally, I would like to start a thirty minute pod cast for the Agency three times a week, Monday, Wednesday and Friday recognizing our officers and employees that get recognized and awarded. Plus, keep the public advised of our ongoing reform and other news worthy Announcements.
5. With the rise of HMID, many that suffer from it wind up in the Nueces County Jail. What steps would you put in place to ensure the people who need help are diverted before entering the jail? And those who are in jail are receiving the best possible help.
Sheriff J.C. Hooper
20 to 30 percent of the inmates in our jail suffer from some degree of mental illness. Our jail diversion program has implemented all elements possible, codified by law, to serve the inmates who qualify. We have been successful, but we have reached the limit of what we are able to do legally. Some laws and legal practices that are enumerated in the Code of Criminal Procedure must be addressed in the next legislative session. We need to open more possibilities of prearrest diversion. The law enforcement officers in the field should have a legal option available to them other than bringing a mental health care consumer to the county jail on a criminal trespass charge or other charge that is typical of a street person with mental illness. I will continue to work with community organizations, MHID and state legislators to address the legislation needed to achieve a broader and more comprehensive jail diversion process for our mental health consumers.
David Torres
I have been given numbers of 20 to 30% have some type of MHID. I believe it is critical for us to have after-care procedures for them. We currently have designated officers who are assigned to this duty. That is the first step. These officers do not work on weekends, as I was told, but I believe we need to cooperate and coordinate with the mental health facilities in town and see how we can increase the coverage. Additionally, we currently have a Jail Diversion that focuses on Veterans and we need to see how we can expand these types of Diversion programs for the mentally challenged individuals. I feel by reaching out to local and state agencies we can begin to collaborate with them. I was a past member of the local Homeless Issues Partnership group.This should assist me in finding solutions that will help our Agency with this growing problematic issue.
6. What do you view are the strengths of the Nueces County Sheriff's Office? What areas need improvement and how do you plan to address the areas that need improvement?
Sheriff J.C. Hooper
I believe the main strength and most valuable asset of this agency are the women and men who work here. This was never more apparent than during the peak of this infectious disease pandemic and the hurricane. So many of you left your comfort zone and put yourselves in environments that you normally do not work. You put yourselves and your families at risk in the service to the inmates and citizens of Nueces County. I appreciate each and every one of you who come to work each day and give your very best to the NCSO and the citizens of our county.
I fully support our most obvious needs for improvement in modernization of facilities, equipment and technology to create a more secure and safe jail and patrol environment. We work every day in buildings that are challenged in age and infrastructure. I have authorized personnel to make quicker decisions regarding the repair of our facilities if needed. We have done an amazing job keeping the facilities safe and clean. I am extremely proud that we have received two consecutive successful annual Texas Jail Standards Inspection reports. One of which was achieved during the height of the infectious disease pandemic and as we faced an approaching hurricane.
We have seen the success of adding technology in the jail with the introduction of court call, zoom hearings and body temperature scanners. We have enhanced patrol with the addition of radar for each unit and license plate readers for select units at no cost to the taxpayers.
We have upgraded our service firearm and I will continue to seek upgrades to the equipment you need to do your jobs safely and effectively.
The courthouse is currently undergoing a multi-faceted security enhancement process.
There are many ongoing projects throughout our agency from facilities to training that will continue to move forward and expand to ensure the employees of our agency have the best tools, training and environment to safely do their job.
David Torres
The strength of the Nueces County Sheriff's Office is without question the Correction Officers, Peace Officers and Civilian Staff. I feel the officers are waiting for a leader with a vision and a written concrete plan of action. As mentioned in number one, we need an active and robust Training Division, and I explained it in answer number one. The other are the staffing issues which have plagued this Agency for several years. I also gave my ideas that go towards resolving this issue. But keep in mind, as a leader, I will again caution you I provide the direction and vision, and the Officers will detail and set the means to the end.
7. How do you intend, or do you intend to work with and alongside the Constable's in the community?
Sheriff J.C. Hooper
I will continue reaching out to the elected Constables in our county. During a time like the pandemic or a hurricane it becomes even more obvious that we are stronger in County Law Enforcement when we collaborate and coordinate our activities. An example of collaboration is when the Agua Dulce City Marshall reached out to me for help. We were able to successfully tie him into our Metro Com system enabling radio service for his agency.
There can be distractions or obstacles toward the collaborative working relationship but that does not mean I will give up or quit trying to do the right things for the citizens that we all serve. Those distractions are manmade and usually involve politics and egos. Collaboration and cooperation is a two way street and I will never give up when it comes to establishing trust and facilitating a productive law enforcement environment for all of Nueces County.
David Torres
This goes in line with my answer of Nueces County initiating the first Nueces County Law Summit. I believe the Sheriff should be facilitating any policy changes or implementing any operational procedures to assist all agencies, including the Constables. After all, crime does not end at someone's city limits or precincts . Case in Point, I started over a year and a half meeting with Constables and asking for their opinions.
8. What is your view on turning away peace officers at the jail who have made a lawful arrest for public intoxication, when the Officer has no other alternative available?
Sheriff J.C. Hooper
Our current policy allows for Nueces County Deputies to book public intoxication offenders, a class c misdemeanor, into our jail when all other possible options have been exhausted. I have been told that when we opened this up a bit for other peace officers that were in a tough situation of last resort that there was at times abuse and the class C bookings became excessive and not always used as a last resort. I have directed Jail Admin to review this process and make these last resort bookings available to officers from other agencies, but this will include scrutiny to ensure that all options other than booking have been exhausted.
David Torres
A few years ago, I read a memo written stating the Sheriff's office would not accept any intoxicated individuals. I thought it was wrong then and I think it is wrong now. As I've stated before, we need to get our house in order and I would make this one of my written goals to be completed within the first 90 days.
9. What would be your two top major reforms initiated within 90 days of taking office?
Sheriff J.C. Hooper
If a reform is to be initiated or a course correction to be implemented for the good of the employees or the citizens of Nueces County that we serve, it will not be done within an artificial deadline of 90 days. It will be done immediately. For example, I recently initiated significant reform concerning courthouse security. I was advised to hold off on any action because it was an "election year". I am not a politician; I am a law enforcement officer. My job entails ensuring the safety and security of the citizens of Nueces County. Implementing the reform immediately was the right thing to do for the safety and security of the Nueces County Courthouse employees and the citizens who enter the courthouse daily.
When you ask for two top major reforms, I see these as ongoing and continuous struggles.
The first would be to get our agency fully staffed with qualified and quality individuals who will serve the citizens of the county well.
The second would be to make a permanent change to the way that mental health care consumers are processed in the criminal justice system.
David Torres
Realignment of manpower to assist critical areas of need, such as stated earlier, an active Training Division and other critical areas as pointed out by Staff. The other is to train and designate a person inside the Agency to seek Federal, State and philanthropic grants. We must have an infusion of manpower into the critical areas and capital improvement monies coming from these grants.
10. What changes would you make to internal communications inside the agency? A lot of Members feel like they are left out and have to hear updates from the news or civilian personal.
Sheriff J.C. Hooper
Upward, downward, and lateral communication is a critical component for the success of a law enforcement agency. When I became your sheriff two years ago, I was surprised that all correctional officers did not have a county email address for information flow. I immediately directed Jail Admin to get the email access process started with our County Information Technology partners. This initiative was put on hold when the pandemic appeared and I.T. resources were diverted to technological efforts like court call, zoom court, and making accommodations for so many county employees who started working from home.
I have resurrected the process to get county email accounts for all employees. Workstation availability will be an issue but we will address that as we move forward.
We are also exploring group text apps such as "groupme" and "remind" in an effort to see if apps such as these would be compatible and beneficial in our mission.
Once the email environment exists, we will be better off in sharing a newsletter or routine day to day advisories and information.
David Torres
A dysfunctional organization operates where the employees are the last ones to hear of changes. Having spoken to many officers inside the Agency, I have realized we have a lack of computer terminals inside the floors or pods. I would like them to be reinstated. This is not a high cost. I would like to make sure that every employee uses their designated email provided by the County. In addition, I would like to make work groups, such as our work group for the jail, for the annex, all field services, etc. This is a critical communication link. As I retired from the CCPD, I was the only commander who did a newsletter every Friday that would give Officers information on the transfers, retirements, critical incidents and awards of some of the officers. I strongly believe a command staff officer MUST be able to do the same here at the Sheriff's Office. Finally, I envision for certain areas of our Agency, we should have large, smart TVs that can be linked up where I can have a zoomquestion and answer with different briefings, different meetings of those work groups throughout the Agency. These are now very cost-effective. I just feel that that there are many new innovations being already used by other Departments and we need to seek these new innovations.
In closing, in these uncertain times due to the Covid-19 pandemic, severe staffing shortages and the projected economic downturn, my administrative experience and decisive leadership translates well into this Agency at this time.
Page Last Updated: Sep 13, 2020 (20:41:10)