| | |
| --- | --- |
| Dr. Martin Luther King, Jr. | Jan 18, 2019 |
A Historical Perspective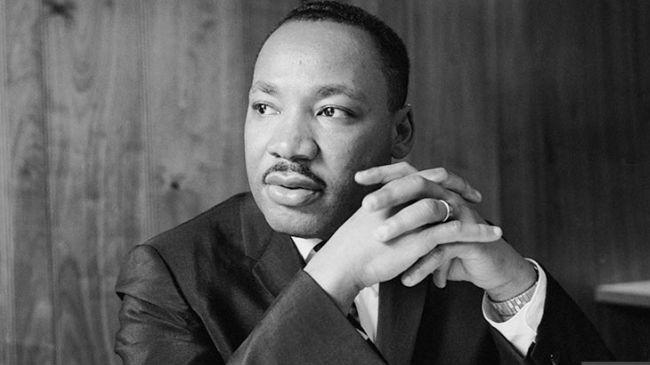 Thanks to his courage and vision, it is the triumph of Reverend Dr. Martin Luther King Jr.'s life and legacy that ceilings have been lifted off many of our dreams. We cannot change the past; however, one must make peace with others by seeking constructive ways to combat ignorance, denial and false pride. King led the change that ended a system of segregation more than a century old. The Civil Rights movement was the most important event taking place in America, and King was committed to true leadership and courage without seeking fame. The accomplishments he gave his life for calls us to remember his Dream and justly honor him every year on the third Monday in January.
Martin Luther King Jr., was born January 15, 1929 in Atlanta, Georgia. His birth name was Michael King Jr. In 1934, after attending the Fifth Baptist World Alliance Congress in Berlin, Germany, Michael King Sr. changed his and his five year old son's forenames in honor of the Protestant reformer Martin Luther. At the age of six, Martin was already singing in church programs, as his mom Alberta played the organ. He was profoundly influenced by the bible, having come from a family of eminent southern African American preachers. Martin grew up the son of one of the most influential preachers in America. King Sr. was the pastor at the huge Ebenezer Baptist Church in Atlanta, Georgia.
At age eleven, Martin had developed his vocabulary extensively and was competing in oratorical contests. He was winning and had qualified to compete in Valdosta, Georgia. On the bus ride from Atlanta, the driver forced Martin to give up his seat to a White student, and he had to stand the entire ninety minute trip. Martin's mother was a teacher who had impressed upon him that "one man can make a difference" and encouraged him to make the most of his talents.
Educationally advanced Martin skipped ninth and twelfth grades. At fifteen he finished high school, and was allowed to enter Morehouse College in Atlanta. At seventeen, his father gave him an opportunity to deliver his first sermon. One year later Martin was ordained a full minister and became an assistant pastor in his father's church. He received his Bachelor's Degree in Sociology at nineteen; he was given a scholarship to Crozer Theological Seminary in Chester, Pennsylvania. He graduated from Crozer with a Master's Degree in Philosophy, and entered Boston University where he earned his Doctorate.
In Boston, he met Coretta Scott, an Alabama storekeeper's daughter who was studying to be a singer. They married June 18, 1954, and moved back south in 1955. Martin Luther King Jr. was offered pastorship at Dexter Avenue Baptist Church in Montgomery, Alabama as its twentieth pastor.
At only 26, King Jr. was also elected President of the Montgomery Improvement Association. On December 1, 1955, Rosa Parks, a Montgomery resident decided not to give up her seat on the city bus to a White man, and as the law required she was arrested and sent to jail. King led the creating and planning of the Montgomery Bus Boycott, by encouraging the African American community not to ride the bus.
Two weeks after the boycott started, King's home in Montgomery was bombed; his wife and child were there during the explosion. Fortunately, neither was hurt, and King asked all the highly upset onlookers to go home peacefully. This did not stop King, he fearlessly continued with the bus boycott. The boycott lasted 381 days until the United States Supreme Court's decision was made to radically integrate the Montgomery busing system. The success of the bus boycott encouraged a wave of massive demonstrations. King did not want to defeat his enemy, just change their attitude about racism; realizing it is not a political problem to be outlawed, but a psychological disease to be cured.
King helped form the Southern Christian Leadership Conference (SCLC) on January 10, 1957, following the Montgomery Bus Boycott to further the Civil Rights Movement through nonviolent means. The SCLC was devoted to integration and citizenship for African Americans. No doubt other people of color would have been included in King's proposal; but during this time the combined population of Latinos, Native Americans and Asians did not equal that of African Americans.
On September 19, 1958, King was stabbed at a book signing in New York by a mentally deranged African American woman. She stabbed him with a seven inch letter opener, and the tip was so close to his aorta that if he would have sneezed, he would have died. King chose not to press charges against the woman, but to please try and get her some help. The next year King moved from Montgomery to Atlanta, and became co-pastor with his father at Ebenezer Baptist Church.
King continued his fight for civil rights as he targeted Birmingham, Alabama to protest against discrimination. King was arrested and he wrote the famous, "Letter from a Birmingham Jail". The confrontations with African American protesters being driven back by White police armed with high power water hoses and vicious attack dogs was seen on national television. These demonstrations led to federal intervention; because the nation saw how awful African Americans were being treated. President Kennedy gave the first ever public address against segregation in his Civil Rights address on June 11, 1963. The next day in Jackson, Mississippi, Medgar Evers was fatally shot in the back near the front door of his home while his wife and family were inside. Medgar Evers was the field secretary for the National Association for the Advancement of Colored People (NAACP).
On August 28, 1963, more than 250,000 people gathered at the Lincoln Memorial in Washington D.C. to demonstrate on behalf of the Civil Rights Bill that was pending in Congress. King was one of the many scheduled speakers, and he had stayed awake until 4a.m., working on his speech the night before. However, once King started speaking he put his notes away early, and most of his "I Have a Dream Speech" was not what he originally planned. This speech became his most famous oration, and one of the best speeches ever heard anywhere in the world.
King took seriously the Christian injunction to love your enemies and the Gandhian method of nonviolent resistance. However, two and a half weeks after his "I Have a Dream Speech" on Sunday morning September 15, 1963; a bomb exploded in the basement of the 16th Street Baptist Church in Birmingham, killing four innocent young African American girls between the ages of 11 – 14. During their funeral services, King eulogized three of the four little girls. Later that year on November 22, 1963, a major advocate of Civil Rights President Kennedy was assassinated in Dallas, Texas.
King's nonviolent resistance and acceptance of his enemies advanced his own transformational agenda to end segregation in the South. He stated "when you are right you cannot be too radical". King wanted African Americans to secure their right place within the economic system. Vice President Johnson promised to continue support for Civil Rights legislation by fighting against poverty and discrimination. Johnson witnessed poverty growing up around poor Whites and Mexicans in South Texas. He also was personally aware of how bad discrimination was after seeing signs on restaurants that read 'No Blacks, No Mexicans and No Dogs'. On June 2, 1964, with Dr. King present, President Johnson signed into law a major civil rights bill forbidding discrimination in public accommodations.
On December 10, 1964, Martin Luther King Jr. at the age of 35, was the youngest man ever to receive a Nobel Peace Prize. King was awarded the prize in recognition of his nonviolent efforts to gain civil rights for African Americans and for setting an example for others who sought to change things peacefully in other areas of the world. The $45,000 that King received for winning the prize, he donated it back to the Civil Rights Movement. Time Magazine undoubtedly named King as "Man of the Year".
Less than two months later King was jailed again, this time in Selma, Alabama for a protest demonstration to permit African Americans the right to register and vote. King along with 770 protestors were arrested during the voter rights demonstration on February 1, 1965, in Selma. King stayed in jail four days, and during this time over 3,000 were arrested including children. On Sunday, March 7, 1965, Civil Rights leaders started a 55-mile march from Selma to the state capital in Montgomery. King was not present because he was preaching at his church in Atlanta, Georgia. The unarmed marchers met Alabama state troopers at the Edmond Pettis Bridge in Selma; the marchers were turned back by tear gas and night sticks. The vicious attack on these helpless marchers was so gruesome that it was labeled "Bloody Sunday". Two weeks later a second march was organized by King. The march ended five days later in Montgomery on the steps of the capital; this led to the Voting Rights Act of 1965.
King traveled for more than half the year; giving four or five sermons or speeches a day. He was hospitalized for exhaustion on average once or twice yearly; usually for days to weeks. King wanted to solve the problems of racism, poverty and war. In 1967, King publicly denounced the American War in Vietnam, and this made him a lot less popular. He felt the war was draining away the country's resources that could be used to eliminate some of the misery, poverty and diseases here at home. The Federal Bureau of Investigation (FBI) labeled King a Communist; although the director had received field reports indicating King posed no threat to national security. The FBI continued sending King threatening letters.
In March 1968, King called for the "Poor Peoples March on Washington" to demonstrate the need for the federal government to review its' priorities. While in the process of preparing for this march, King was called to help with the city sanitation workers strike in Memphis, Tennessee. On April 3, 1968, at the Mason Temple in Memphis, King gave his final speech, now known as the "I've Been to the Mountaintop Speech". On April 4, 1968, at 6:01p.m. King was shot by an assassin on the balcony outside of room 306 on the second floor of the Lorraine Motel. Within several minutes, the motel and the surrounding area were swarming with police. King was placed in an ambulance heading for St. Joseph Hospital; King 39, was pronounced dead upon arrival.
On April 9, 1968, funeral services were held at Ebenezer Baptist Church in Atlanta, Georgia. As millions watched on television, mourners lined up for miles behind the mule drawn wagon that carried Dr. Martin Luther King Jr.'s body from Ebenezer to Morehouse College, his alma mater. There the eulogies were delivered and more than 150,000 mourners paid their last respects. New York Governor Nelson Rockefeller charted a plane to take one hundred people to the funeral. Nearly 200 diplomats and United Nations' staff members gathered for a memorial service for King at the United Nations Plaza. Thousands of people marched and streamed out of buildings to share in their grief on the day of the funeral. School children were given the day off, and the New York Stock Exchange was closed for the first time ever in honor of a private citizen.
Dr. Martin Luther King Jr. was arrested 29 times in his nonviolent fight for equal citizenship rights. African American and others have had their lives changed by the movement he gave his life for. His birthday is a national holiday celebrated each year with educational programs, artistic displays and concerts throughout the United States. The Lorraine Motel where he was assassinated is now the National Civil Rights Museum.
Please continue King's legacy! Pay respect and gather in public or private to reflect on the life of Dr. King, a man who positively changed our nation.